How Burgan Bank became the first choice for the Kuwaiti business community with iGTB

Burgan Bank, a leading banking service provider to the Kuwaiti business community has successfully deployed superior customer-centric channel capabilities to augment and enhance its digital cash management services.
Powered with enhanced customer experience channel technology CBX, Burgan Bank is now positioned to:


a) strengthen its corporate customer footprint


b) expand its Kuwaiti portfolio significantly by enabling the corporate sector with the latest technology and well-designed products.

Burgan Bank is now poised to offer a full range of streamlined and advanced transaction banking services to:


a) Leading Kuwaiti corporations


b) SMEs across the trading, manufacturing sectors


c) Businesses focused in contracting, alternative energy and advanced technology sectors.


Their success can be yours
Contextual Banking Experience (CBX)
Seamless user experience for the Corporate Treasurer delivered in a mobile-first paradigm
Cash Management Solution
Fully functional electronic banking with self-service and comprehensive payment services
Omnichannel digital automation
A foundation for the bank to cross-sell and up-sell with a product bundling strategy
Payroll processing
Automated vendor payments and B-Dinar salary accounts
This new technology rollout is an important step in our own journey of being the best financial service provider in the Kuwaiti market through sustained execution. iGTB is an important partner with a reputation in the MENA region for creating operational efficiencies, adopting international standards with a track record of emphasis on local requirements.
Mr. Raed Al-Haqhaq
CEO, Kuwait - Burgan Bank
With unique, specific enhancements that cater to the Kuwaiti market in this deployment, iGTB continues to dominate the transaction banking technology space with functional breadth and regional depth across every key region in the Middle East. Burgan Bank marks the 8th major go-live for DTB in the last 6 months ensuring top-notch delivery excellence for banks in the midst of Covid-19 crisis.
Mr. Manish Maakan
CEO, iGTB
Deepening our partnership with iGTB to deploy the upgraded Digital Transaction Banking platform is central to our digital transformation journey to simplify and automate the end-to-end customer journey. Such advancements in mobile and online banking driven by customer demands and expectations are crucial for securing marquee clients and iGTB's in-depth domain knowledge and expertise made it our partner of choice.
Mr. Venkat Menon
CTO - Burgan Bank
We're not just Best in Class in Payments. Read all about our other recent achievements.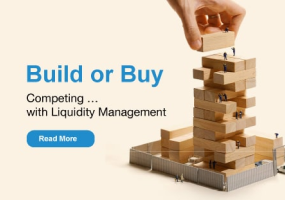 LMS Build or Buy - Competing with Liquidity Management
Transform liquidity management from zero-sum to win-win
Read Burgan Bank's success story to learn
how you can start your own transformation journey.