CBX for Business and Corporate Banking
Powered By Intellect's CBX
(Contextual Banking eXperience)
Introducing a refreshing change in digital innovation that enables contextual, relevant and slick user experiences for your corporate and business banking clients​
CBX for Business
and Corporate Banking
Check how iGTB's CBX can enhance the digital banking
experience for your business customers
Feature rich risk management solution that handles complex corporate cash management & liquidity structures
Account Services
Check account balances and transactions for accounts in your multi-currency portfolio, including accounts domiciled in other FI's.

Leverage personalized powerful visualizations packed with KPIs and data insights to enhance your business' finance operations. Download and distribute Account Statements, Information & Transaction Reports.

Export data in standardized formats for integration with other systems.
Payment Services
Initiate and track financial transactions using multiple domestic & international payment rails, including ACH, Fedwire, SWIFT & checks.

Take advantage of Payments Wizard for assistance to newer users and those making payments in unfamiliar geographies. Resort to a one-stop shop for inquiries on all transactions in past, present and future.

Make use of utilities for file upload (supporting industry standards and bespoke/ proprietary formats) with secure & standard templates.
Bank & Channel Administration
Utilize the comprehensive back-office solution for bank users to on-board clients, configure products, perform business actions on clients' behalf and much more.

Use a self-serve module for defining roles and creating user profiles & preferences.

Administer controlled access of entities & functions by deploying a comprehensive entitlements framework and other administrative functions.
What's in it for the banks?
Bank's benefit from an umbrella of differentiated architecture, technology and composable offerings – all on the cloud
Banks can leverage a technology engine that is architected to deliver high performance, that can easily scale up, cater to the high transaction growth demands of corporates and is highly efficient in corporate banking operations.
Feature rich omni-channel contextual experience
Provide your customers with a best-in-class Online Banking Experience across devices and browser types
Execute control over the features & functionalities using a robust back-office platform
Enhanced Customer Satisfaction & improved Customer Retention
What's in it for the clients?
Clients benefit from a best-in-class digital experience for corporate self-service that focuses on an individual consumer's wants, needs and behavior on commercial banking products and services
Introducing a refreshing change in digital innovation that enables contextual, relevant and slick user experiences for your corporate and business banking clients
'Account services' data & dashboards can be composed differently for different client segments (large corporate & small business).
Recognize the relevance of external (or internal) events in real-time and instantly propose the next-best-action to affected clients. The action could prevent a problem, or maximize a benefit
Engineering that enables customers to access ALL of their data regardless of the source without sacrificing control or security
Cloud Native Micro Service Architecture
For high resilience and processing large volumes in partnership with Microsoft Azure and AWS
Microservices Architecture
Loosely coupled, self contained services
API First
Build internal ecosystems with open APIs
100 % Cloud Native
Flexibility to deploy on any public cloud platforms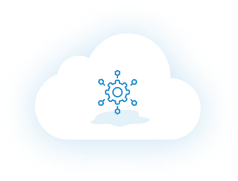 Pluggable Backends
Integrate any backend or application gracefully with pluggable integrations
Security
With layers of security, ready for public or private cloud deployment
No Vendor Lock In
Usage of open source components based on CNCF
Built on the most advance Architecture to
Future - Proof your Ecosystem
A modern payment platform enables you to become agile, flexible and scalable.
Pluggable Integrations
Extensible and pluggable integrations for extreme agility


Front to Back Secure
With multiple layers of security, ready for public cloud deployments


Open Standards
Usage of production grade open source components based on Cloud Native Computing Foundation (CNCF)
What is BaaS and how does it add value to banks and their corporate customers?
Intellect Global Transaction Banking (iGTB) identified as a leader and "Best in Class" Payments Platform provider
Fifth Third Bank launches cloud-native self-service user experience
iGTB named World's Best Virtual Accounts Solution Provider 2023 by Global Finance
Please Fill Form
Fill the form to download the CBX for Business and Corporate Banking Brochure.